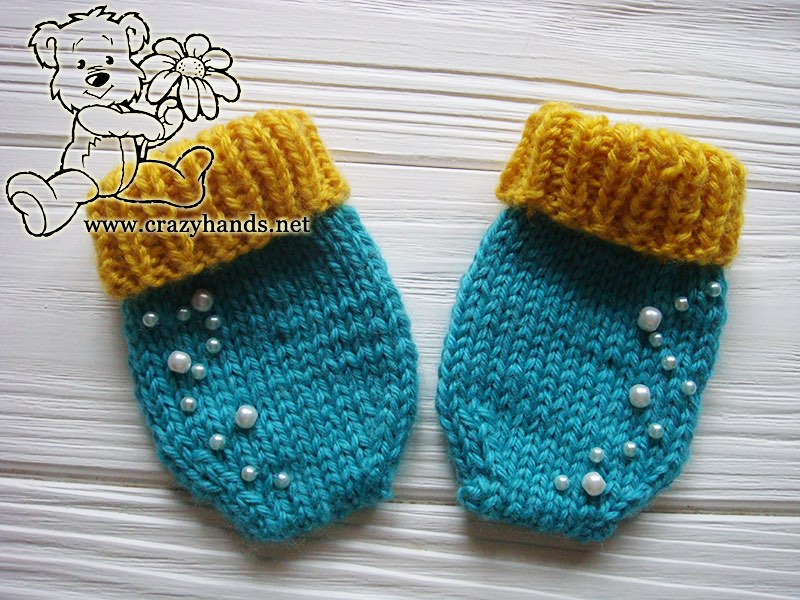 As promised here is the second part of newborn baby set – blue primrose thumbless knit mittens with pearls embroidery. Check also blue primrose knit hat pattern for a newborn baby.
Knitting materials and knitting tools:
<> 2 sets of 5 Double Pointed Knitting Needles 3.25 mm (US3/UK 10) and 3.5 mm (US 4);
<> Gazzal (baby wool) Medium 40% Lana Merino, 20% Cashmere Pa, 40% acrylic. Teal blue and yellow colors: 50 grams -100 m per skein – 0.5 ball – teal blue and 0.5 ball –  yellow;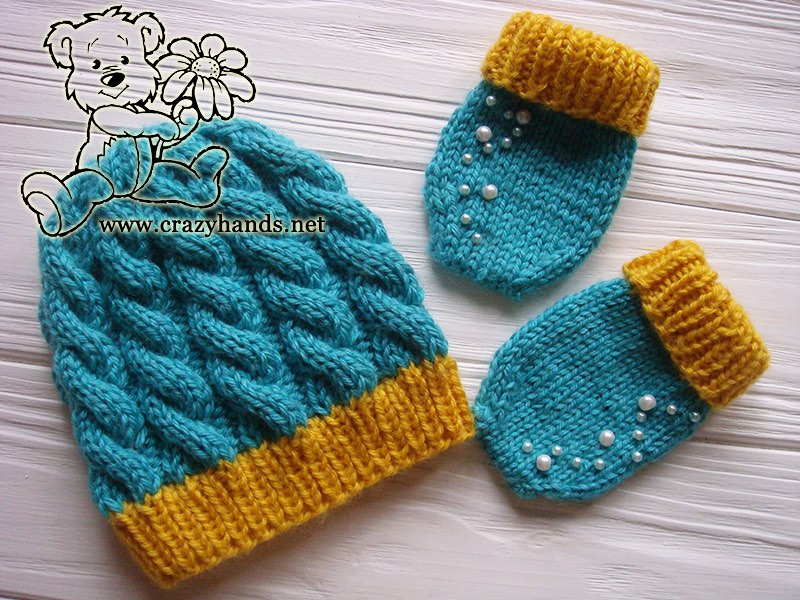 Knit mittens size:
Size: infant 0-3 months
Gauge:   19 stitches = 4 inches in stockinette (body)
25 stitches = 4 inches in ribbing – not stretched (cuff)
Common abbreviations of knitting stitches:
k – knit
p – purl
k2tog – knit two together
skpo – Slip, Knit, Pass Over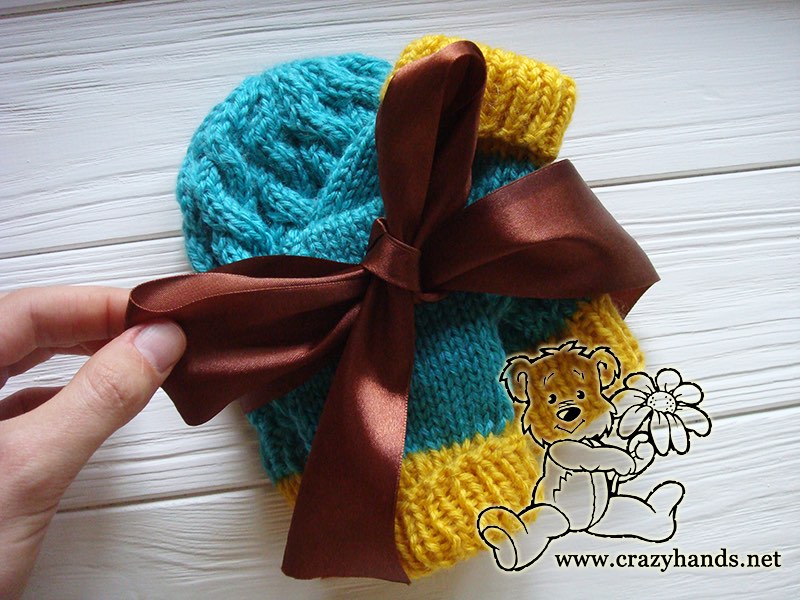 Note for knitters:
The right and left mittens are identical.
Thumbless baby mittens knitting pattern:
Knitting the cuff of thumbless mittens for baby:
Cast on 30 sts onto smaller needles, place marker and join to work in the round. As the number of stitches not that big you can use 4 instead of 5 double pointed knitting needles. Work k1, p1 until cuff reaches 6 cm or 2.5 inches.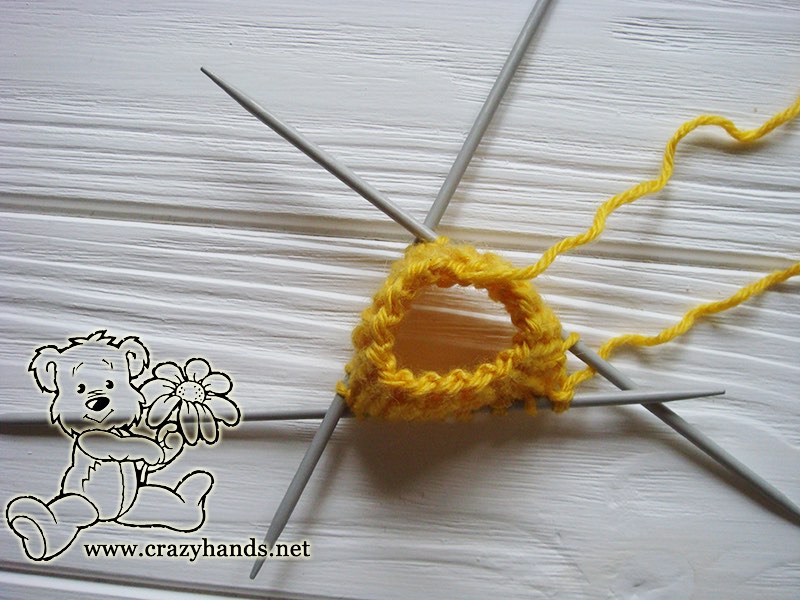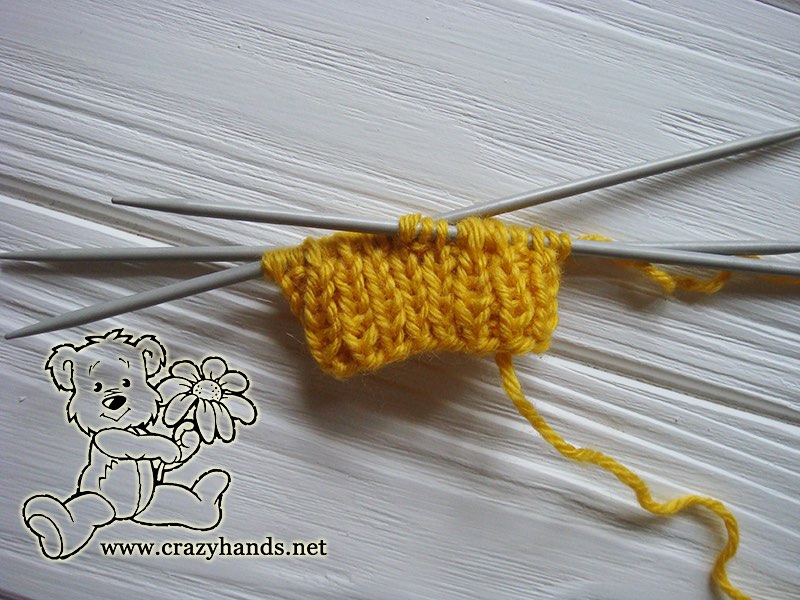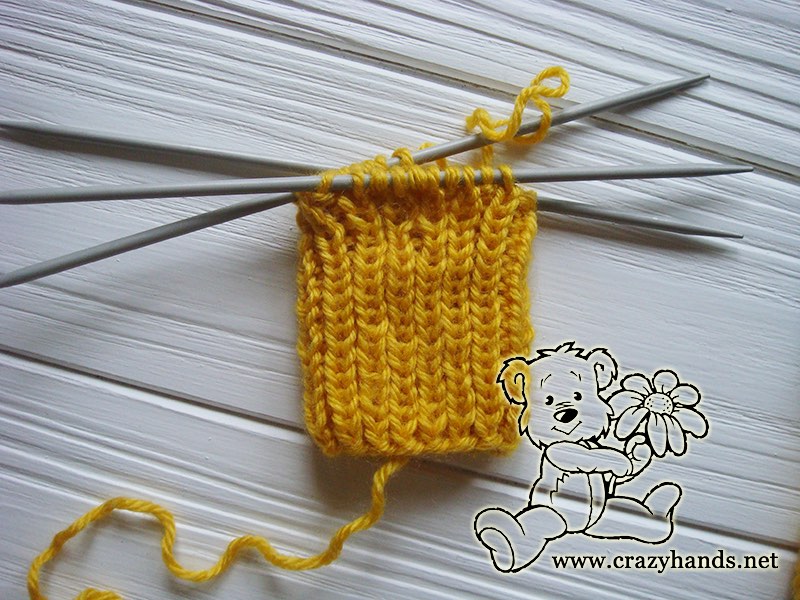 Knitting the body of baby thumbless mittens:
Now switch for larger needles. Knit in stockinette stitch until body part reaches 6 cm as well or 2.5 inches.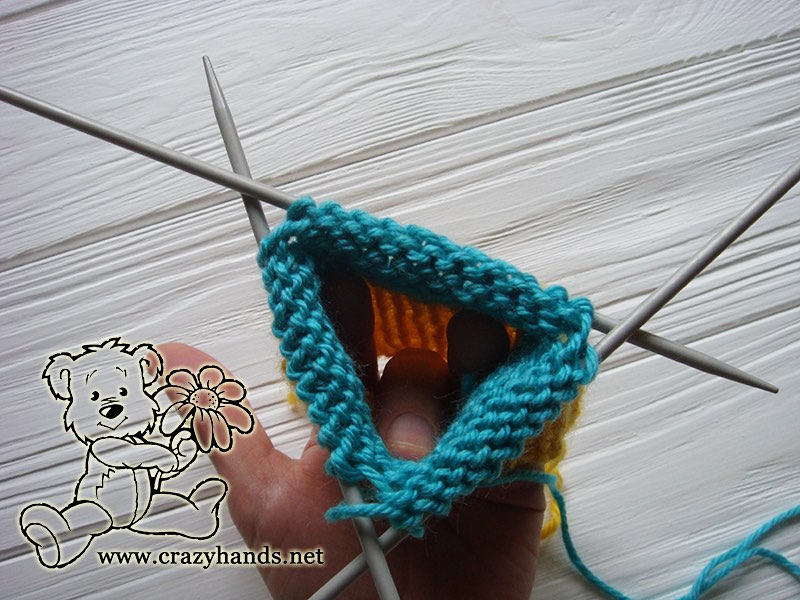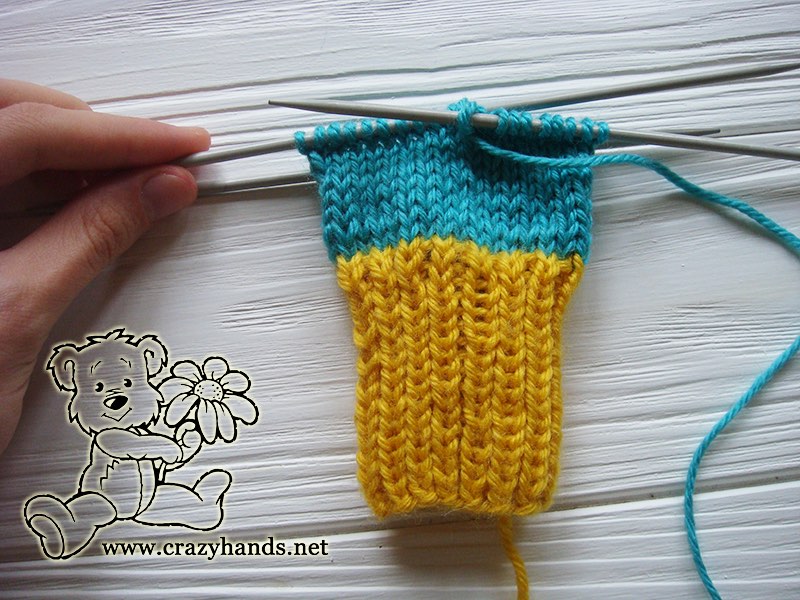 Shape the top of knit baby mittens:
Round 1: [k1, skpo, k9, k2tog, k1] – twice.
Round 2: knit in stockinette stitch.
Round 3: [k1, skpo, k7, k2tog, k1] – twice.
Round 4: knit in stockinette stitch.
Round 5: [k1, skpo, k5, k2tog, k1] – twice.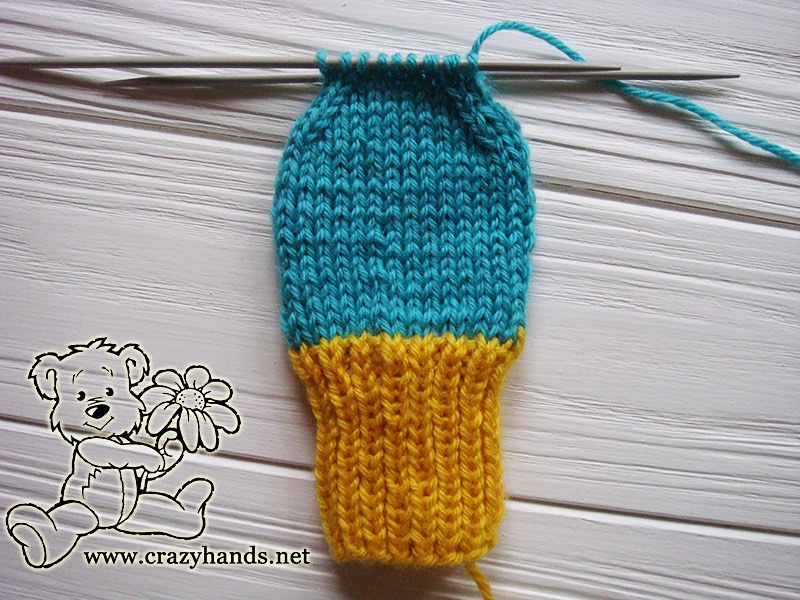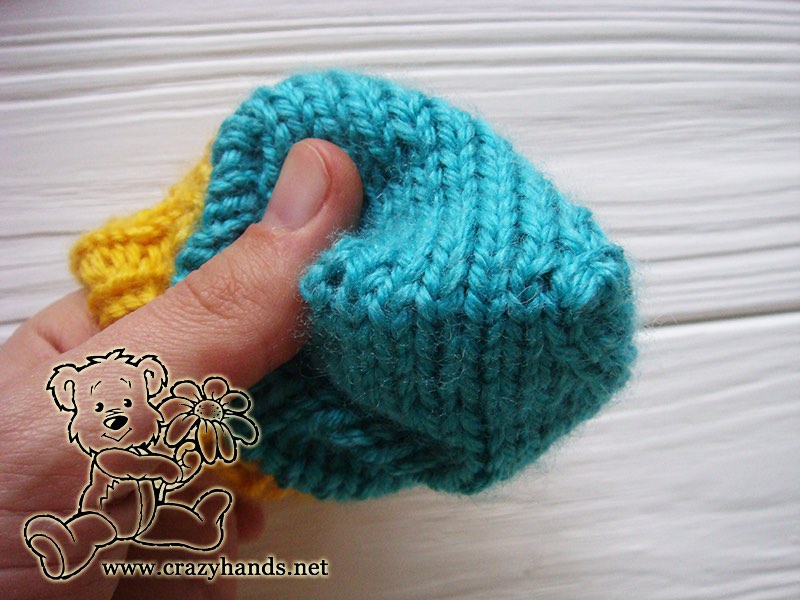 If you think the cuff is too long just fold it back.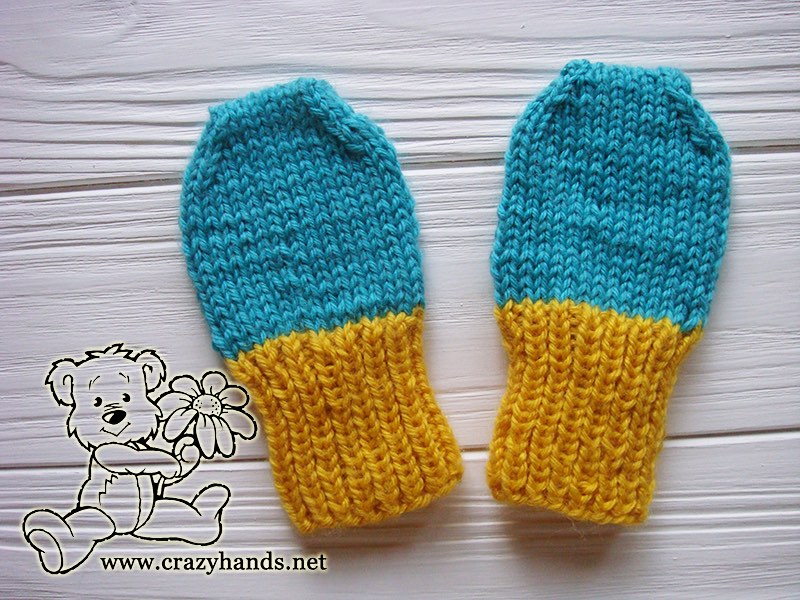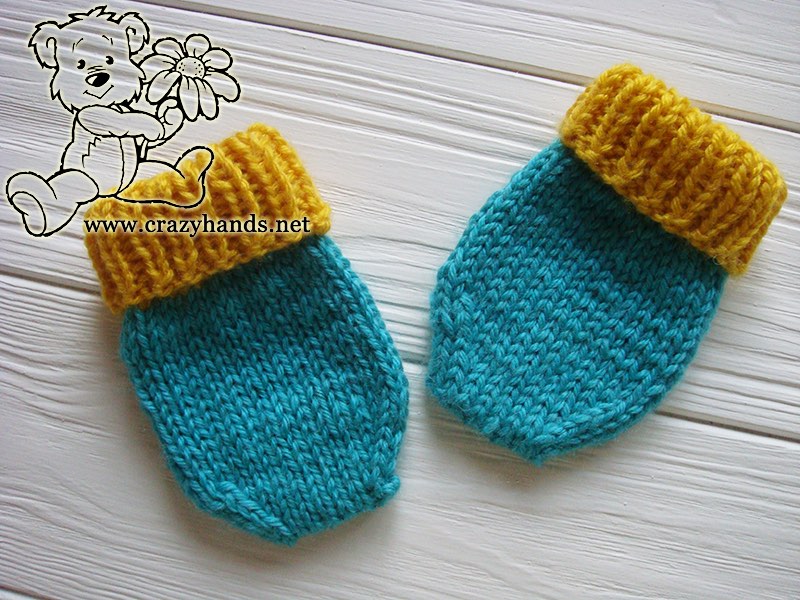 Knit the second pair. Now you are free to decorate it as you like. It can be small crochet flowers or interesting applique. In my case I decided to make pearls embroidery as it gives more tenderness for the girl's set. Make a mini car applique if you are knitting the set for your boy.