Knitting project description:
Have you ever thought of knitting a hat that is not designed to be used as a garment? If this question made you curious or slightly puzzled then this pattern is for you. At times, I just don't feel like committing to some serious project or have several ongoing ones, so I'm trying to either alternate between projects or knit something simple and fun. Today I'd like to share mini hat knitting pattern that will take you literally minutes to make, but might turn into an awesome accessory for your kitchen, new cloth for your daughter's doll, be used as a decoration to another project or a keychain, or anything else you might think of. My mini hat got a magnet and is hanging on the fridge now. Let me know about your projects by posting photos on Instagram tagged #minihat #chknitting #chknitting_minihat.
Knitting materials and knitting tools:
<> 4 Double Pointed Knitting Needles 2.5 mm (US 2);
<> Gazzal (baby wool) Medium 40% Lana Merino, 20% Cashmere Pa, 40% acrylic. Teal blue and yellow colors: 50 grams -100 m per skein;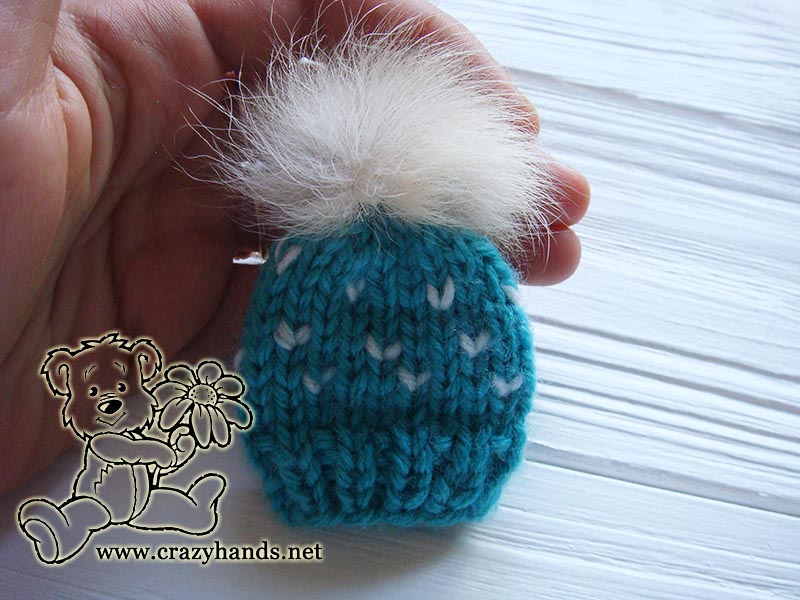 Mini hat size:
Length 6 cm, width 5 cm
Gauge:   19 stitches = 4 inches in stockinette
Common abbreviations of knitting stitches:
k – knit
p – purl
k2tog – knit two together
Cast on 20 stitches and distribute them among 3 DPN.  I use 3 DPN instead of 4 due to the small number of the cast-on stitches. Join to knit in the round.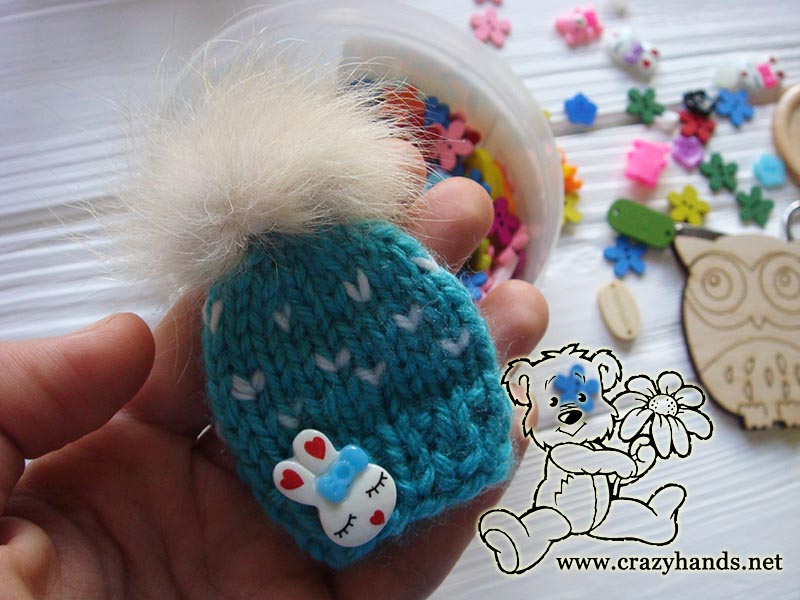 Knit mini hat pattern
Round 1-4: knit ribbing part –  k1, p1;
Round 5-10:  knit in stockinette stitch;
Round 11: [k2tog, k3] – repeat 4 times;
Round 12: [k2tog, k2] – repeat 4 times;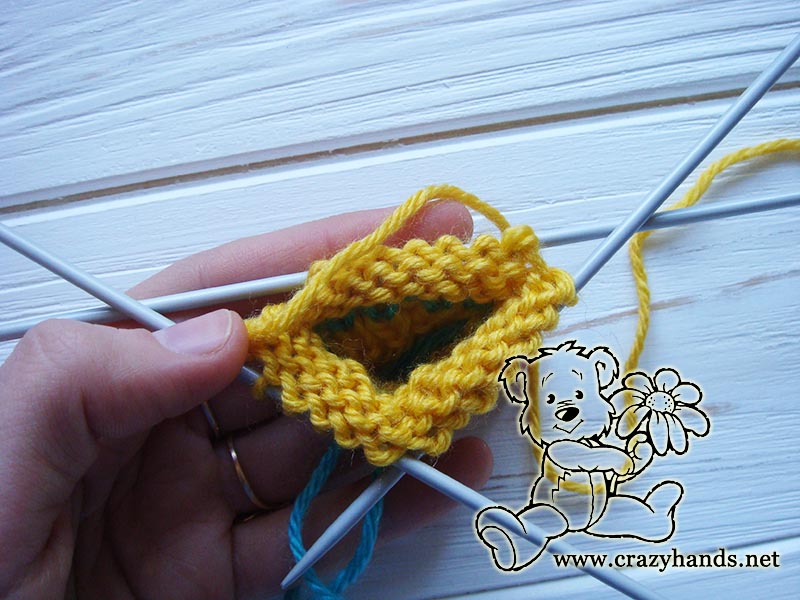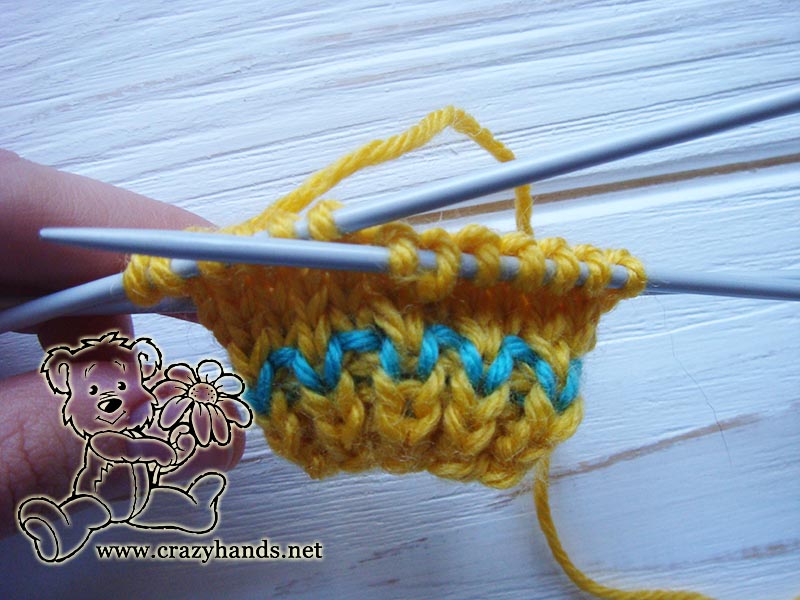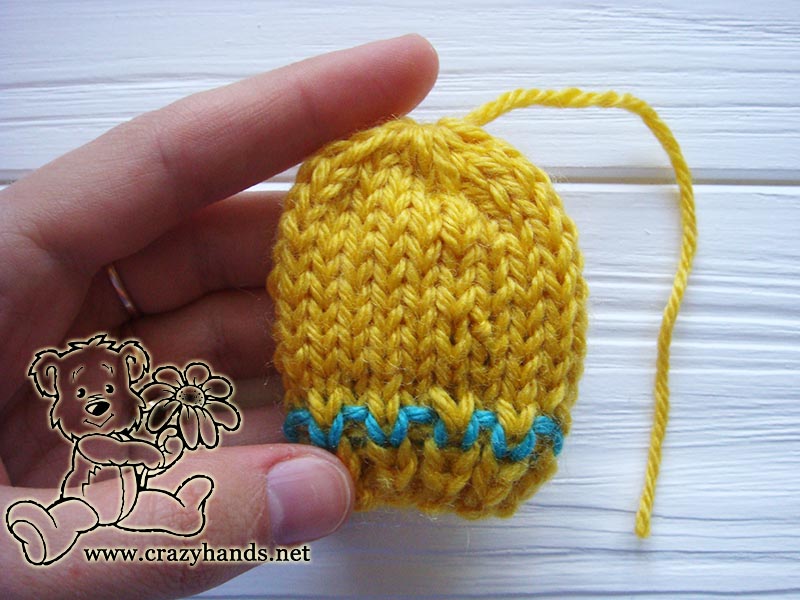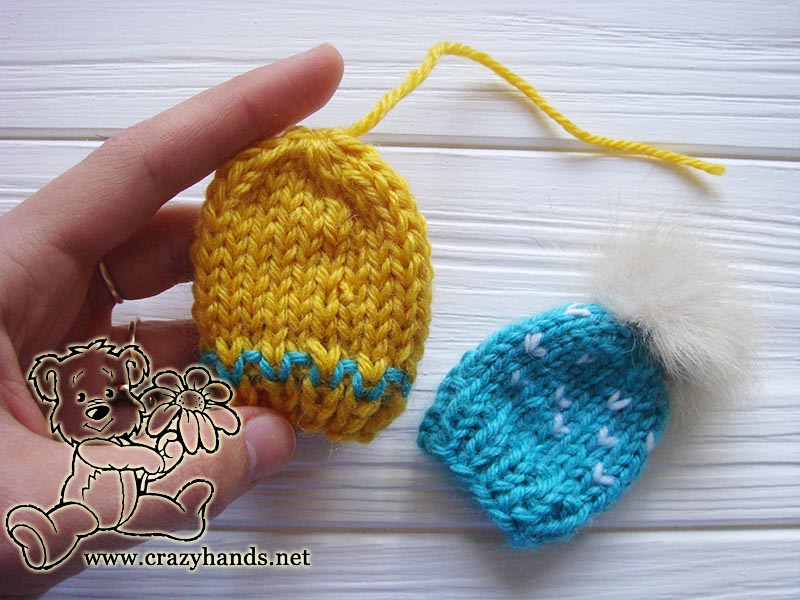 You can use different colors to knit this hat. Teal blue hat was simply embroidered with white stitches after finishing the hat.
Cut yarn and thread end through the remaining stitches. Weave in ends.
Now choose what kind of pom would you like to make. I am sure you know how to make a tiny yarn pom pom with a help of simple dinner fork. At the end my teal blue pom pom was about 3.5 cm in diameter.