Do you believe that you can make a hat within an hour or so? Honestly, I did not. I have seen those catchy headlines many times but could only done an Earwarmer within one evening. If it wasn't for this new free crochet hat pattern I would still think it is impossible. This is a super bulky unisex crochet hat designed for total beginners and can be done in two styles - either with folded brim or as a slouchy one.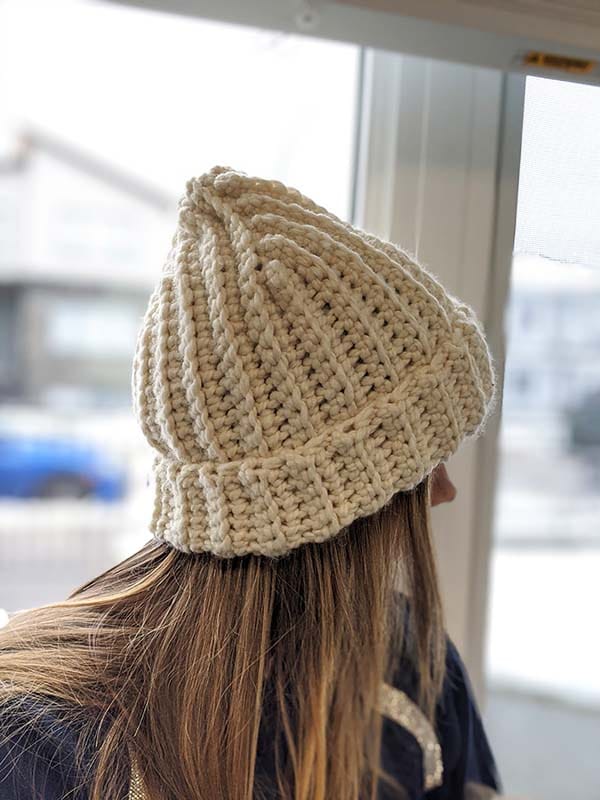 Crochet materials and tools:
<> Crochet hook 7 mm
<> Lion Brand Wool, Ease Thick & Quick – 20% wool, 80% acrylic. Color of your choice. In total 1 skein.
Super bulky crochet ice cream hat size:
Adult: 53-57 cm (21-23")
Gauge: 10 stitches by 9 rows = 4 inches in single crochet ribbing
Common abbreviations of crochet stitches:
ch – chain
sc blo – single crochet back loop only
sc – single crochet
sl st – slip stitch
Single crochet back loop explained:
Body of the super bulky crochet ice cream hat:
Ch 34.
Row 1: Starting in the second loop from hook, sc 24, sl st, turn (do not crochet last 8 ch)
Row 2: Ch 1, 25 sc blo in back loops only. Crochet the very last stitch through both loops (front and back) each even row. We do it to make the hat's edge less elastic and springy. Turn
Row 3: Ch 1, sc 26 blo, sl st, turn (do not knit last 6 ch)
Row 4: Ch1, sc 27 blo, turn. Do not forget to crochet the very last stitch through both loops
Row 5: Ch 1, sc 28 blo, sl st, turn (do not knit last 4 ch)
Row 6: Ch1, sc 29 blo, turn
Row 7: Ch 1, sc 30 blo, sl st, turn (do not knit last 2 ch)
Row 8: Ch1, sc 31 blo, turn
Row 9: Ch 1, sc 32 blo, sl st, turn
Row 10: Ch1, sc 33 blo, turn
Repeat Rows 1-10 three more times. Crochet all single crochet stitches through the back loop only.
Now it is time for slip stitching. Do not cut the yarn, line up 2 sides, you can also pinch 2 sides together by using locking stitch markers to be sure you don't end up with lopsided seam using too many stitches on one side and not enough on the other. Insert the hook into the front loop of the fabric that is closest to you and underneath the chain of the first row on the other side, yarn over and pull it through both loops and stitch on the hook. Slip stitch those two edges together till the very top. Fasten off and weave in ends.