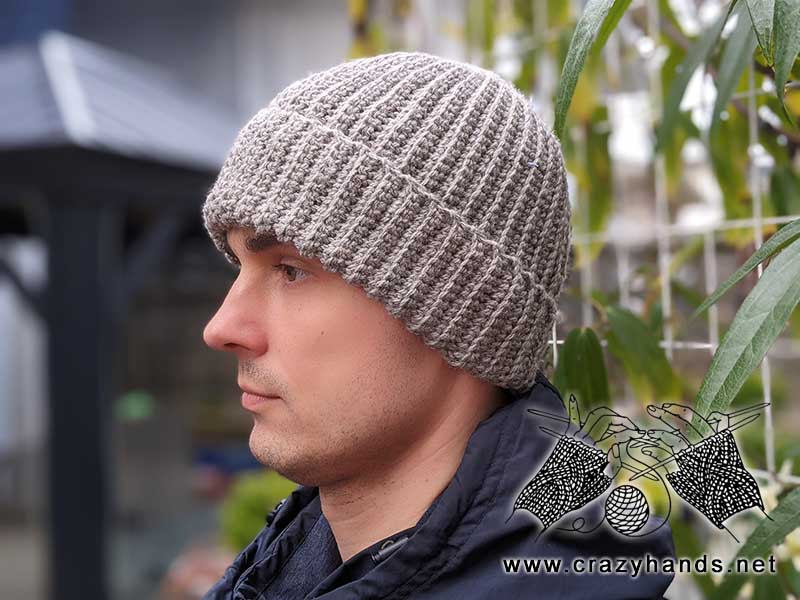 Crochet materials and tools:
<> Crochet Hook 4.5 mm;
<> Knit Pricks, Simply Wool (Bulky) – 100% Eco Wool. Color #: OC, 100 grams -193 yards per skein – in total less than 1 ball;
Crochet ribbed hat size:
Adult: 53-59 cm
Gauge: 18 sts – 4 inches (10 cm)
Common abbreviations of crochet stitches:
ch – chain
sc blo – single crochet back loop only
sc – single crochet
sl st – slip stitch
sl st blo – slip stitch back loop only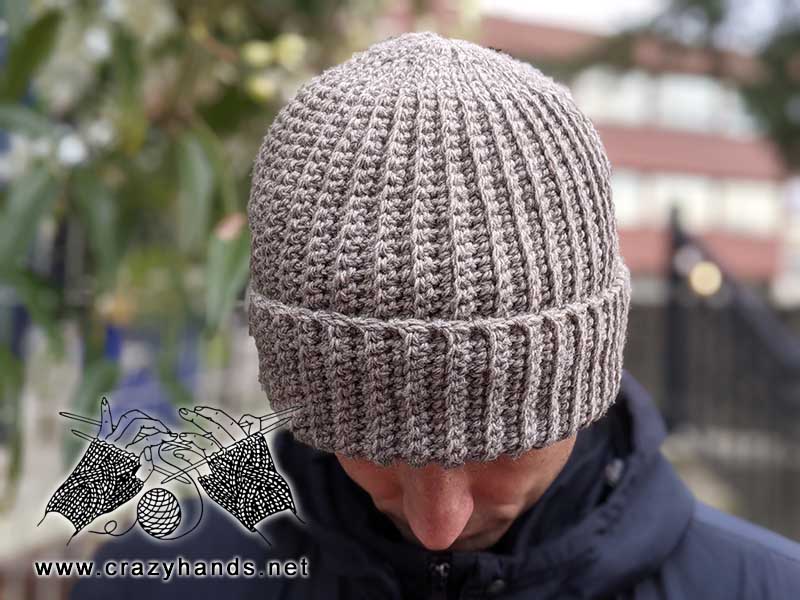 Men's Crochet Hat Pattern
Body of the crochet ribbed hat:
Ch 51. Measure the chain. If you are crocheting hat with folded brim, your chain must measure about 32 cm. Add more chains if 51 are not enough.
Row 1: Ch1, starting in the second loop from hook, 41 sc. The length of the last 10 unworked chain must measure 7 cm. You can have more or less unworked stitches, the only condition is to have the number of stitches be divisible by 2. In my case it is 10. After that make 5 sl st. Turn
Row 2: Ch 1, 5 sl st blo, 41 sc blo. Crochet the very last stitch through both loops (front and back) each even row. We do it to make the hat's edge less elastic and springy. Turn.
Row 3: Ch 1, 41 sc blo, 5 sl st blo, 5 sl st, turn.
Row 4: Ch1, 10 sl st blo, 41 sc blo. Do not forget to crochet the very last stitch through both loops.
Repeat Rows 1-4 until your hat measures desired width. Finish crocheting with row 3. For head circumference of 57-58 cm I have crocheted 46 cm.
Sewing edges of the crochet ribbed hat
Sew 2 sides together making back seam of the hat. Insert the hook underneath the chain of the first row of the fabric that is closest to you and through the back loop on the other side, yarn over and pull it through both loops and stitch on the hook. Slip stitch those two edges together till the very bottom. Weave in ends.
Now take a yarn needle and thread new tail to close the top. Insert needle back and forth around the top, then pull the yarn tight to close hole. Fasten off and weave in ends.
Let me know if you liked this tutorial and feel free to share your projects by tagging me in social medias. Have a lovely day!