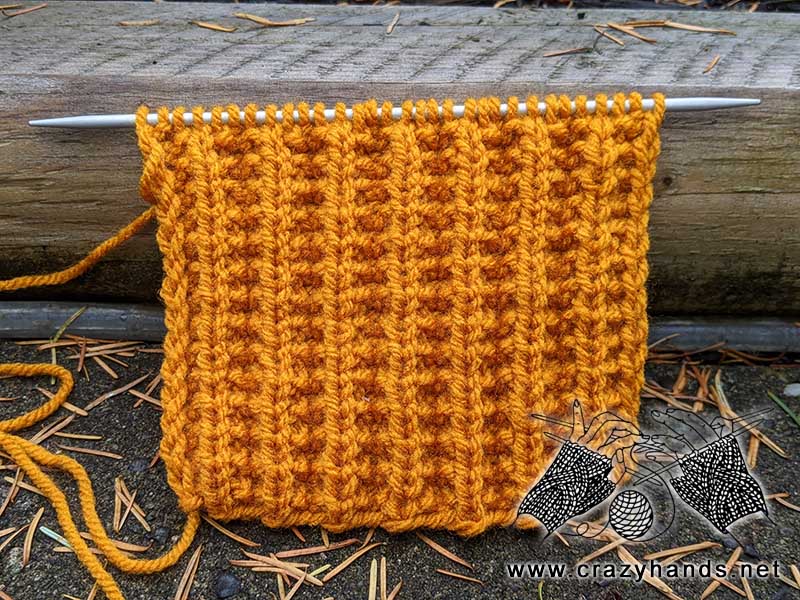 Let's do a bit of stretching today and learn how to knit a simple ribbed stitch. The hardest part here is knowing how to knit a selvage stitch, everything else is just a breeze. I believe that this stitch is somewhat ignored in the community of knitters, but in the creative hands it will shine like a new star – from hats and scarfs to blankets and covers, its texture and look makes it a hidden gem.
Knitting materials and tools:
<> DPN 4 mm (US6/UK8).
<> Super Corfou – 100% Acrylic, Color # 45, 40 grams – 95 meters.
Common abbreviations of knit stitches:
k – knit
p – purl
st(s) – stitch(es)
k2tog – knit two together
sel s – selvage stitch: always slip the first stitch purlwise, work to the last stitch, purl the last stitch
Ribbed seed stitch knitting pattern:
Cast on a multiple of 4 sts plus 1 extra sts and plus 2 selvage stitches.
Row1 (RS): sel s, k2, p1, *k3, p1– repeat from *, k2, sel s.
Row 2: sel s, p1, *k3, p1, repeat from *, sel s.
Repeat Rows 1-2 as many times as needed.