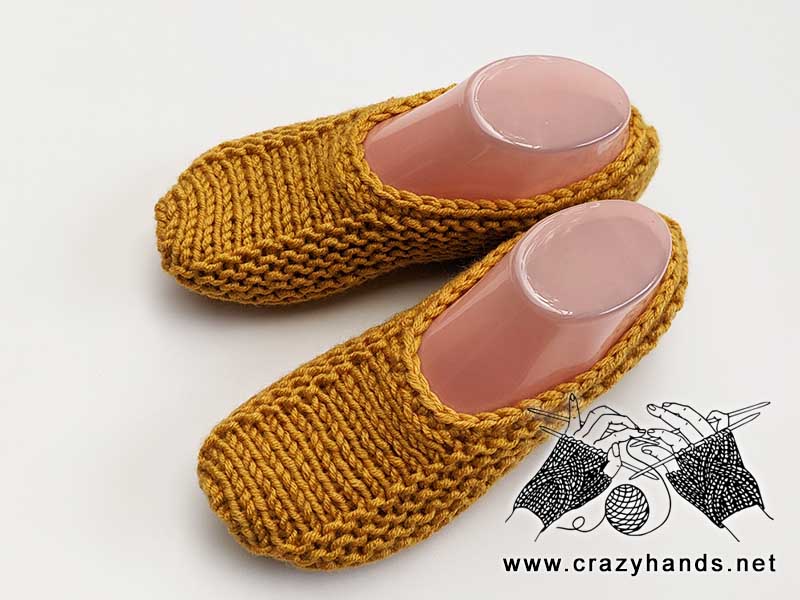 Knitting materials and knitting tools:
<> Circular or straight knitting needles 5.5 mm (UK 5 or US 9).
<> Lion Brand, Color Made Easy (5) – 100% acrylic.
<> Yarn or tapestry needle
<> Crochet hook 5 mm
Knit flat socks size:
Size: US7/7.5, EU 37/38
To have a better sock fit – make it 10% smaller: Size 7 = 24 cm sole – 10 % = 22 cm
Gauge: 13 sts – 4 inches (10 cm)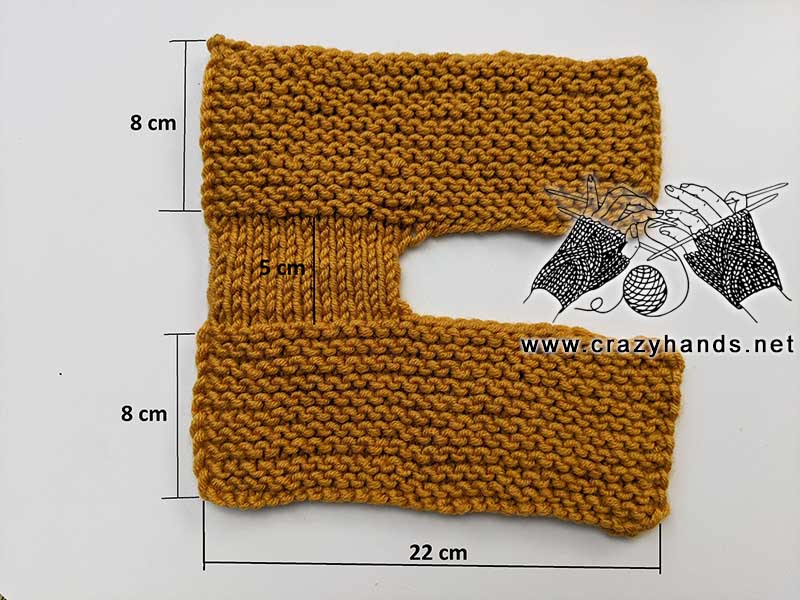 Common abbreviations of knitting stitches:
k – knit
p – purl
sel s – selvage stitch: always slip the first stitch knitwise, work to the last stitch, purl the last stitch.
Slipper socks knitting pattern:
MAKE TWO.
Using long tail cast on methos, cast on 29 stitches.
Row 1: sel s, k27, sel s.
Repeat Row 1 until piece measures 7.5-8 cm.
My gauge is 13 sts – 4 inches. If you are using another type of yarn, find out your gauge.
29 sts- 13 sts = 16 sts. I am going to bind off first 16 sts.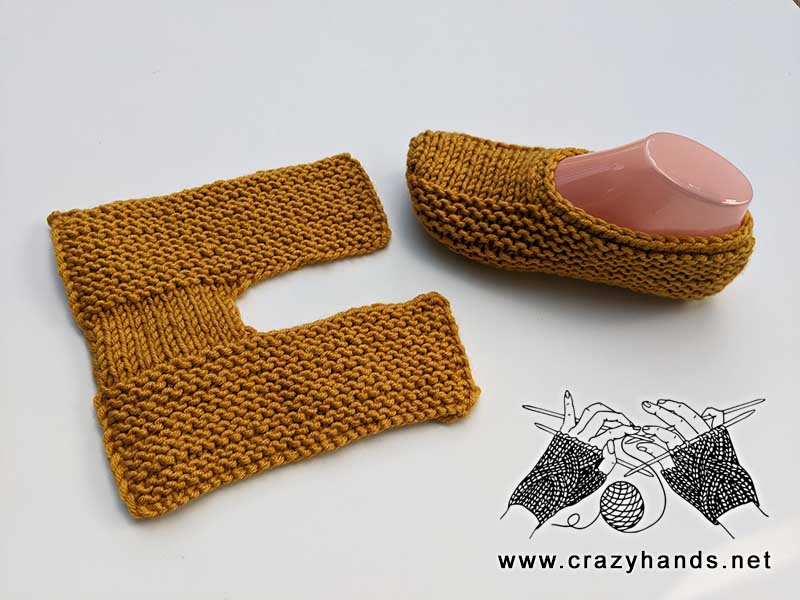 To make it more comfortable, let's start counting rows from the scratch.
Row 1: bind off 16 sts, k11, sel s.
Row 2: sel s, p11, sel s.
Row 3: sel s, k11, sel s.
Row 4: sel s, p11, sel s.
Repeat Rows 3-4 three more times or until central part reaches 5 cm.
Turn the slipper wrong side facing you and cast on 16 sts.
Row 11: sel s, k27, sel s.
Repeat Row 11 until this part will have the same width as the one, we knitted at the beginning. (7.5-8 cm)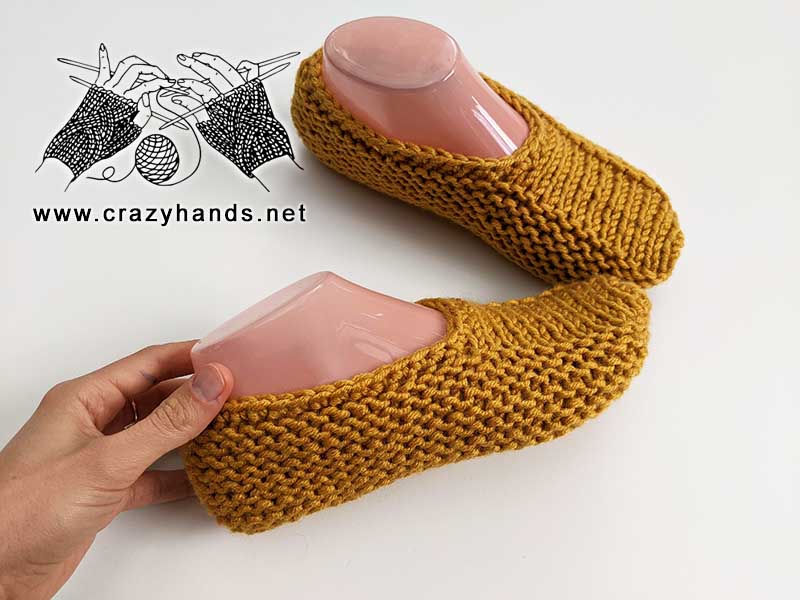 Bind off all stitches. Cut the yarn leaving long tail. More than 1 meter. I know it will be hard to work with such tail, but we are going to use it to crochet the last row as well.
Fold the sock in half facing it right side out and start seaming toe using mattress stitch method. If you want to make the slipper to fit even better, thread the tail trough last 8 stitches (4 sts on the right side, 4 sts on the left side), and pull tight to close the hole. The same way closing the hat's top is usually done. Pull the yarn slightly to add some wrinkles. Do not cut the tail. Move it down and stitch up the cast on and cast off edges. Check the video tutorial on how to join the sole. After that seam the heel using mattress stitch.
If your tail is long enough, make one row of single crochet in each stitch around the opening. This will make your sock snug and will not let falling off your feet. Do not worry if the tail is short. Just attach a new yarn and finish crocheting the border.