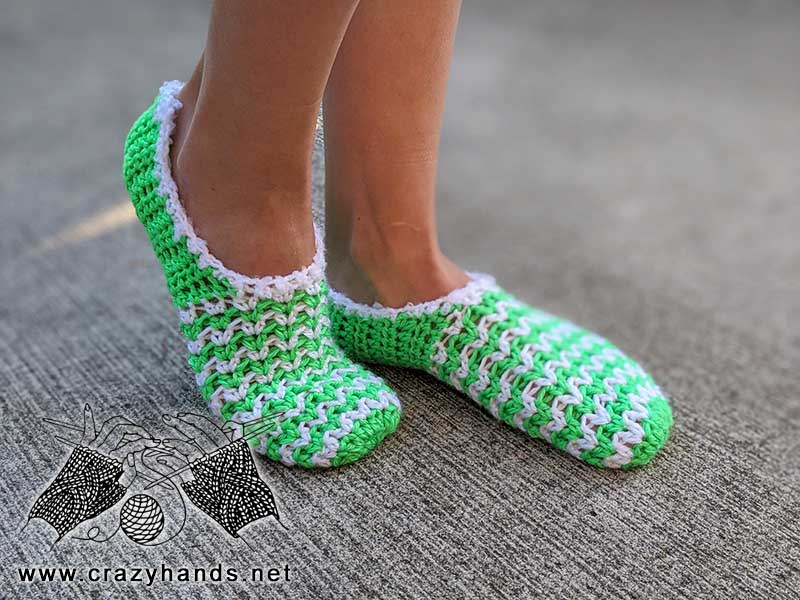 Having a tile floor at home and start wearing socks the moment temperature inside falls below 23 C (72-73 F)? Then you are like me. I'm naturally a warmth-loving creature, and don't like cold months of the year. But whether we like it or not winter comes no matter what. I also don't like wearing flip flops at home without any obvious reason, hence I tend to wear lots of socks, sometimes even two pairs at once. If it sounds familiar to you, then this crochet slipper socks will become real savers for you, guaranteed.
Crochet materials and tools:
<> Crochet hook 3mm (UK 11) or 3.5 mm if you have wide feet.
<> Caron Simply Soft (4) – 100% acrylic: 170 grams -288 m per skein. Light green and white colors – in total less than 1 skein.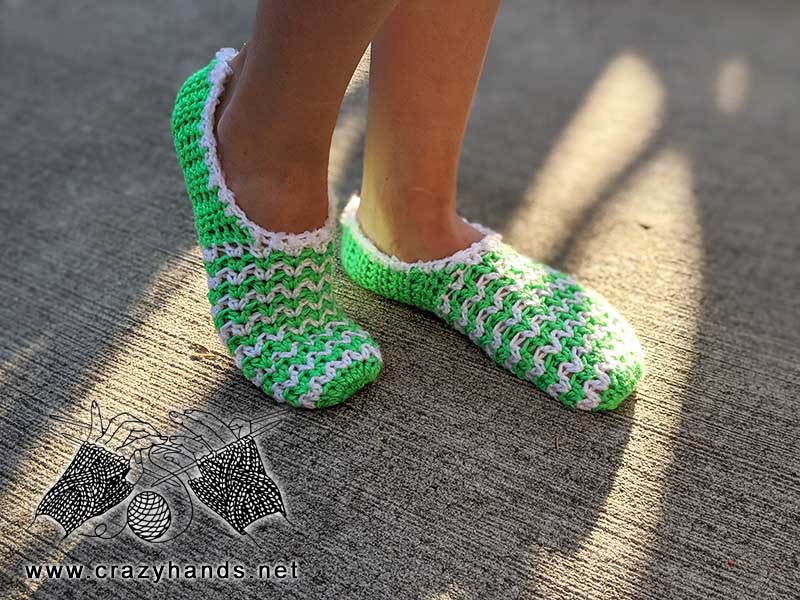 Crochet slipper socks size:
US 7/ EU 37 or 23.5-24 cm.
Common abbreviations of crochet stitches:
ch – chain
sc – single crochet
hdc – half double crochet
sl st – slip stitch
st – stitch
sc2tog – single crochet 2 together
Crochet slipper socks pattern:
Crochet toe and foot of the slipper socks
Round 1: With color A, make an adjustable ring, ch2, hdc 11into the ring, join – 12 sts.
Round 2: 2 hdc into each st from previous round, join – 24 sts. Do not cut the yarn, always carry the yarn inside your sock.
Round 3: Join new color B, ch 2, hdc into the base of the ch2, skip next st, [2 hdc in next st, skip next st], join – 11 times.
Round 4: With color A, ch 2, hdc into the base of the ch2, [2 hdc in between of 2 hdc of previous round], join. (24 sts)
Repeat Rounds 3 and 4 for six more times and then repeat Round 3 one more time. Fasten off.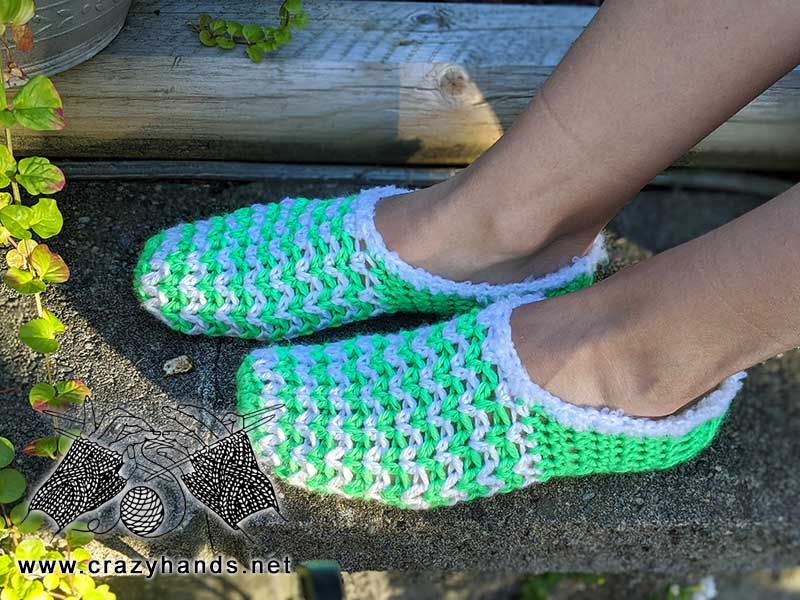 Crochet heel of the slipper socks
Start working heel back and forth in rows
Row 1: To make ankle opening, leave 4 sts in the center and join color A. Ch2 (count as 1 hdc), hdc in the next 19 sts, ch2, turn.
Row 2-11: Ch2 (count as 1 hdc), hdc in the next 19 sts, ch2, turn.
To close the end of slipper, turn it inside out and sl st down. Cut the yarn. Now turn slipper the right side out. Join color B, ch 1, and sc around entire slipper and join with sl st at the end. If you think that ankle opening is to wide, make 2 decreases in the corners by crocheting 2 stitches together (sc2tog).
Weave in all ends and make the second one.