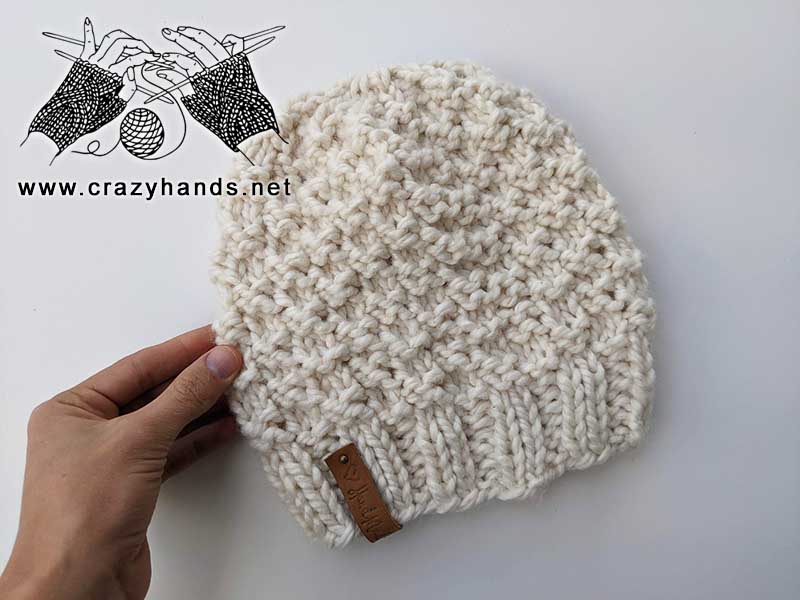 Knitting materials and tools:
<> Double-pointed knitting needles 9 (US 13/UK 00).
<> Lion Brand Wool, Ease Thick & Quick – 20% wool, 80% acrylic. Color of your choice.
<> Weight Category – 6. Quantity – less than1 ball. If you have difficulty to find aforementioned brand of yarn, use something else that will have about 60 m (65 yards) per 100 grams skein.
<> Pom pom – black/white/natural color. Material – natural fur / faux fur / yarn pom pom. Size – from 13 to 20 cm.
Frosty chunky knit hat size:
Head circumference: Teen/Adult: 53-58 cm (21-23")
Gauge: 9 stitches = 4 inches in stockinette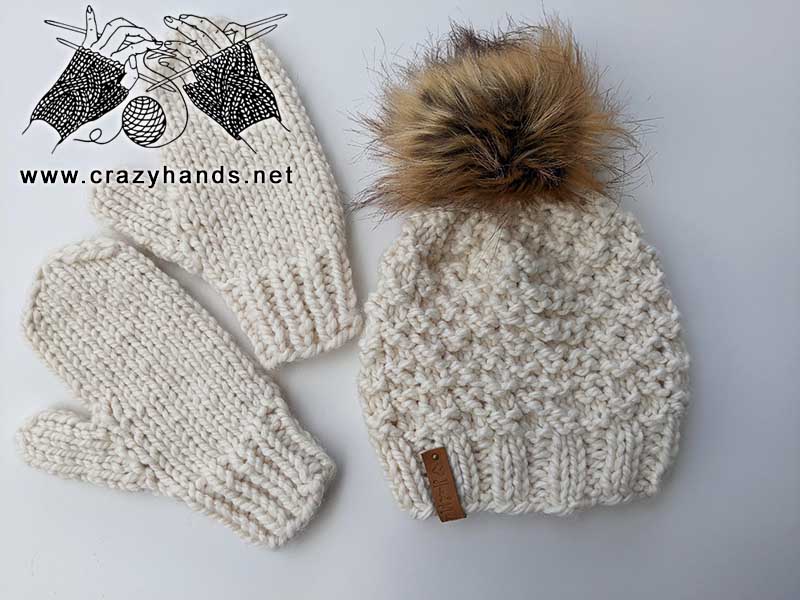 Common abbreviations of knitting stitches:
k – knit
k2tog – knit two together
p – purl
p2tog – purl two together
skpo - Slip, Knit, Pass Over: Slip one stitch to the right needle purlwise, knit in the next stitch, and drop this stitch off the left needle, insert the left needle into the slipped stitch, pass it over the knit stitch and it's done.
Frosty chunky hat knitting pattern:
Using long tail method cast on 44 stitches or any other number divisible by 4. Join to knit in the round being careful not to twist stitches. Place marker. Rib k2, p2 for 6 rounds.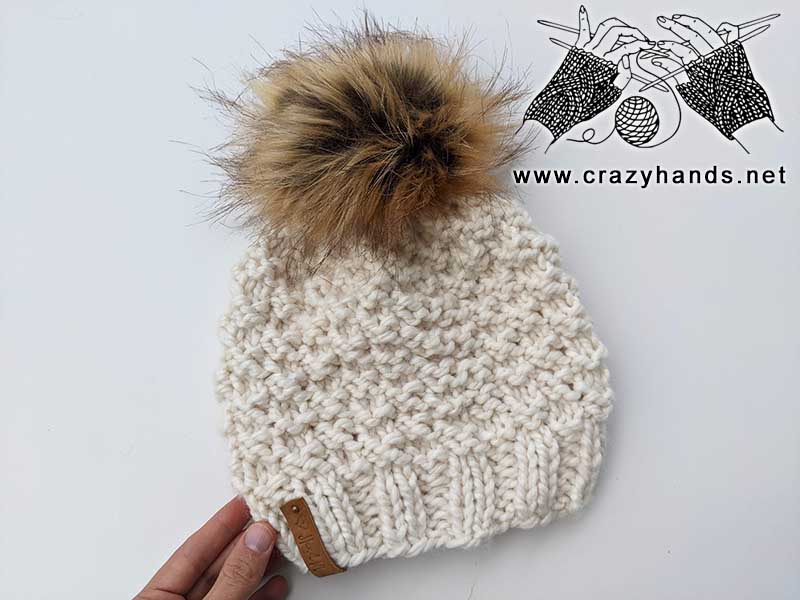 Knitting body of the chunky hat:
Rounds 1-2: [k2, p2] – repeat till the end of round.
Rounds 3-4: [p2, k2] – repeat till the end of round.
Repeat Rounds 1- 4 until hat measures 18-19 cm from the edge. At the end I have finished with Round 1 and 2.
Shaping crown of the chunky hat:
Round 1: [p2tog, k2tog] – repeat till the end of round. When you are knitting k2tog, to make this decrease smoother, I turned two next stitches and instead of k2tog I have done skpo. Check video tutorial. If you find it complicated, proceed with k2tog.
Round 2: [p1, k1] – repeat till the end of round.
Round 3: [k2tog] – repeat till the end of round.
Round 4: knit all stitches around. 
Cut yarn leaving 10-15 cm tail. Use hook or tapestry needle to pull yarn tail through the remaining 11 stitches. Pull tight to close the hole. Weave in ends.