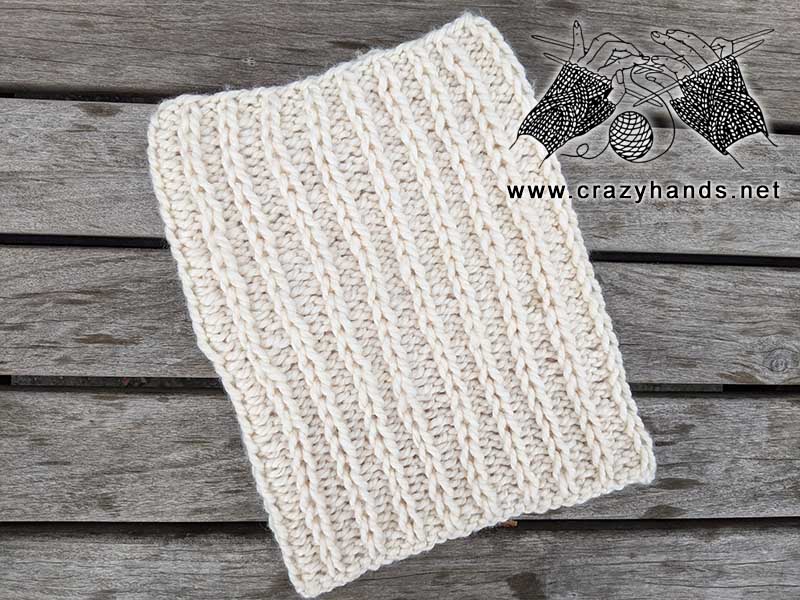 Knitting materials and knitting tools:
<> Circular (40 cm) or double pointed knitting needles, size 9 mm (US 13/UK 0)
<> Lion Brand Wool, Ease Thick & Quick – 20% wool, 80% acrylic. Color of your choice. In total about 120 grams.
Royal Icing chunky knit cowl size:
Length: 33 cm (13")
Width: 27 cm (11")
Gauge: 9-10 stitches in = 4 inches in stockinette
Common abbreviations of knitting stitches:
k – knit
p – purl
Body pattern of the royal icing chunky knit cowl:
Using long tail method cast on 57 stitches or any other number divisible by 3. Place stitch marker and join to knit in the round.
Round 1: [slip next stitch holding working yarn in back, p2] – repeat till the end of round.
Round 2: [k1, p2] – repeat till the end of round.
Repeat Rounds 1-2 until cowl measures 30 cm.  If you are going to wear it as hooded cowl knit 33-40 cm.
Bind off all stitches.
For this cowl I am going to use Scandinavian / Icelandic bind off method. Check video tutorial for the detailed instructions. Otherwise use traditional or preferred bind off method.
Weave in ends.